Match for Life 2019
20/07/2022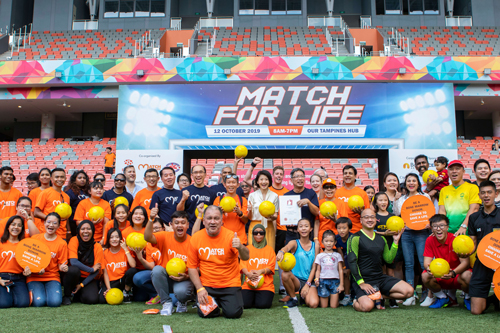 For patients who need a marrow transplant, every day is a hopeful battle to find a match for a second chance in life. This was the message that we wanted to put forth to the public through our very first flagship event – Match for Life: A Donor for Every Patient.
As part of efforts to heighten awareness on blood diseases and the importance of signing up as a marrow donor, we co-organised a full-day football tournament with Home United Football Club at Our Tampines Hub on 12th October 2019!
35 teams across 4 categories took part in the football tournament, with one of the teams signing up to support a colleague who is in recovery after receiving a marrow transplant from a donor through us. It was really heartening to see how people from all walks of life coming together for a cause greater than themselves.
Members of the public were seen bustling around in excitement on the side-line where our roadshow was set up, along with game booths organised by a team of Singapore Polytechnic students from the Integrated Events and Project Management course. Over 100 marrow donor sign-ups were received, with more than 1,000 carnival-goers taking part in the informative games.
Gracing the event was Senior Parliamentary Secretary, Ministry of Home Affairs and Ministry of National Development, Ms Sun Xue Ling, who witnessed us setting a mark in the Singapore Book of Records for the "Most Number of People Tossing Soccer Balls Together" by 200 record-breakers. This action represents how a donor passes on hope to a patient by being a match for a transplant.
Putting together an event that attracted more than 5,000 participants was no mean feat, but thanks to all our volunteers, sponsors and partners, we did it!
Event Partners and Sponsors
| | |
| --- | --- |
| Co-Organised By | Bone Marrow Donor Programme |
| | Home United Football Club |
| Supported By | Singapore Polytechnic |
| Sanctioned By | Football Association Singapore |
| Official Venue | Our Tampines Hub |
| Official Apparel | PUMA |
| | |
| Media Sponsor | Target Media Culcreative Pte Ltd |
| VIP Reception Sponsor | Ontime Onboard Courier GmbH |
| Refreshment Sponsors | Nestle Singapore (Pte) Ltd |
| | Field Catering & Supplies Pte Ltd |
| | |
| Corporate Team Sponsors | Bell Auto Pte Ltd |
| | Certis CISCO Security Pte Ltd |
| | Credit Suisse AG |
| | Eversheds Harry Elias LLP |
| | Ernst & Young Solutions LLP |
| | PwC Singapore |
| | RSM Chio Lim LLP |
| | Singapore Pools (Private) Limited |
| | Singapore Airlines |
| | |
| Contributing Sponsors | An Nam Media |
| | Escape Hunt Singapore |
| | Masters Football Asia Pte Ltd |
| | Royal T Group Pte Ltd |
| | Shotech Press Pte Ltd |
| | The Fairmont Singapore and Swissotel The Stamford |
| | VIVA Foundation for Children with Cancer |